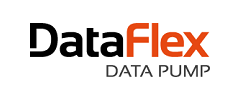 Easily schedule and export into Microsoft SQL Server, Express.
DataFlex Data Pump is a tool to convert DataFlex data (the embedded data format) to Microsoft SQL Server (Express). The advantages are numerous, connectivity from a wide variety of tools, and a dramatic increase of performance are the main ones. It is developed in DataFlex, the state-of-art software development tool from Data Access Worldwide.
With DataFlex Data Pump installed in the same environment as your Microsoft SQL Server database, you can schedule recurring, automatic conversions of DataFlex data to an SQL Server database to run hourly, nightly, weekly, or whenever you need it!
Why use DataFlex Data Pump?
Despite the many benefits of the DataFlex embedded database, it lacks the standard access methods like ODBC that many tools require. It is often necessary for DataFlex developers to write special applications or workarounds for common tasks such as connecting to Microsoft Office products, Business Intelligence & reporting tools, etc.
By exporting DataFlex data to Microsoft SQL Server, DataFlex Data Pump makes the DataFlex data more freely available for other tools to use. This process also leverages the improved performance that SQL Server provides for large data sets and more complex reporting requirements. Microsoft SQL Server Express can be downloaded for free and offers enough capabilities to handle most situations that developers face. Full commercial versions of Microsoft SQL Server are fully supported as well.
DataFlex Data Pump makes it easy to schedule exporting data from the DataFlex embedded database to a Microsoft SQL Server database - including the Express Edition!
Used in combination with Dynamic AI for Business Intelligence, DataFlex Data Pump can open up a whole new world of BI reporting, query and analysis quickly giving your applications exciting new capabilities without introducing system changes.
DataFlex Data Pump also makes it easy for developers to begin exploring their DataFlex data in a live SQL Server environment, and to help prepare their applications for migration from the DataFlex embedded database to an SQL database.
Evaluate DataFlex Data Pump today!
DataFlex Data Pump is available for testing with an Evaluation License. The limitations are it will run for only 60 days, and it will only "pump" data from the first 10 tables in your filelist. Note that DataFlex Data Pump is a "one-way" data pump; the result is non-real-time data in the SQL database.
Learn more and download DataFlex Data Pump here.